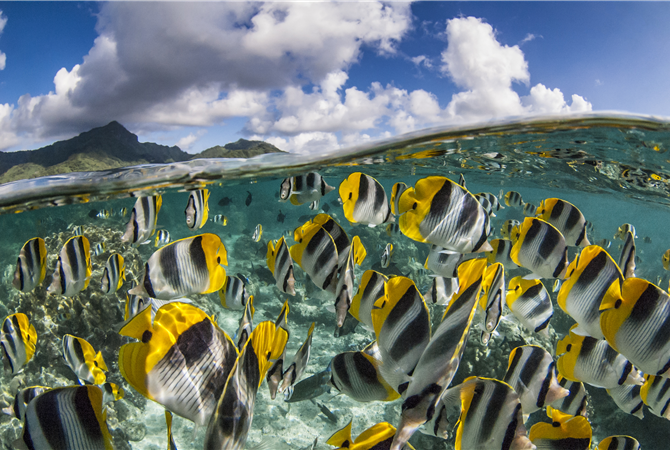 Fish in Water
There used to be a time – not so long ago – when many members of staff in a school would contribute to the extra-curricular programme. When I was a boy, my rugby and cricket team was taken by an array of geography, history, economics and biology teachers. My PE teachers took the senior teams – that's often where their expertise was best used – but others took their turn on the boundary edge.
When I was a young teacher, the same sense of 'wider community' prevailed. I took the 1st XV and coached a junior cricket team, and my boss took the 1st XI and coached a junior rugby team. But we also had help from the wider staff: Terry, Richard, Steve and Keith all took teams. The same went for the girls' department. But over the years their time for extra-curricular involvement diminished as other responsibilities increased. As the pressure for examination results superseded the need for students to take part in extra-curricular activities. In the end, we took nearly all the teams – which meant lunchtime and afterschool practices and fixtures nearly every day of the week.
Eventually, the headteacher suggested that the school pay for coaches to come and help out with extra-curricular activities. Let the marketplace help us out. Seems economically sound. But we weren't happy.
Up until then we had given hours and hours of time on evenings and at weekends to run the extra-curricular programme and done it gladly. But as soon as the head suggested paying for what we had done for free we started to think about what we were offering. Drawing on the title of this week's blog and this week's paper we were like a fish in water i.e., oblivious to the weight of water above and around us. We just got on with what we did. The suggestion of paying others made us question what our time was actually worth. When we asked if we would be paid as well, we were told no because it was our jobs.
In the end, no one got paid. That hasn't been the case in all schools though. Some outsource their PE to professionals. In some cases, this is the former international who joins as Head of Cricket or Netball despite being an unqualified teacher. In others it is the sports coach who provides six one-hour sessions a week for a fraction of a PE teacher's salary. Economically it makes sense. Pay what you can for the expertise you need. The problem is it amounts to short-term gain for long term pain.
The market has shifted from one that values pedagogy and qualification to one that places value for money over education. Like the late Cathy Ennis suggested many great practitioners have continued to the curriculum in incredible ways despite its limitations and I am sure that children around the world have benefitted from the excellence of Heads of Hockey and Sports Coaches. My concern is what is happening to the profession. Have we noticed that the weight of water has changed? That the temperature has shifted? That there are bigger fish in the sea? Or have we gone about our day oblivious to the impact of a free market economy on the subject we treasure?
The Paper
Macdonald tackles a well-used but, I would suggest, poorly understood term in academic thinking and writing, i.e., neoliberalism. Therefore, in order to understand the argument I making in this blog about and around neoliberalism you need to understand how I've interpreted neoliberalism from Macdonald's paper. Why? Because without that insight this paper and these arguments lose their edge.
Neo (or new) liberalism (or broad-mindedness/free-thinking) is understood in this blog as a way of reconceptualising people as architects of their own education, work, health and lifestyle. In this way, people make choices about how they want to succeed (or not) in the world. They are shown the excepted norms society will tolerate and are expected to aspire to and crave these norms. This is driven by a free market where choice is based upon demand whilst reward is based on market share. Therefore, if enough people want something then the market should step forward to provide it. In regard to education and physical education, this comes in the form of the privatization of educational and school services.
Consequently, the marketplace is tasked with responsibility for identifying and solving "problems" and for measuring the relative success and failure of its interventions (i.e., do enough people meet the expected norms).
The big question that Macdonald tackles is, however, "what drives this marketplace?"
Macdonald holds that neoliberalism is driven by performance and by cost and that the former is best seen in high stakes testing and the latter in outsourcing.
High Stakes Measurement and Testing – We know that global education is in crisis and we know that Finland is the benchmark of excellence. How? Because we get told this all the time. We also know that children's physical activity and obesity has reached crisis point and that physical education has thrown itself forward to solve this crisis. Consequently, we now have lots of marketplace solutions to our problems.
From a physical education perspective this has been seen in the form of BMI testing, FITNESSGRAM (see the recent F.I.T Bits blog for more on this) tracking and/or health-related fitness (HRF) units of work. Children are held accountable to national and international standards and teachers are made responsible for achieving certain goals. In the case of FITNESSGRAM this involved big business who've stepped forward to offer a solution to this problem. In the case of HRF this has involved a narrowing of the curriculum to tests and a "back to basics" approach where we do what can be measured. In concluding this section, Macdonald asked "why is it that a PE curriculum that includes iterations of high-stakes testing is so compelling?" This seems an inherently sensible question to ask all educators to answer before they embark on such a programme.
Outsourcing of the PE to private providers – Put bluntly this is the selling of expertise to schools and school systems at a price. Consequently, it also means that we are placing the delivery of PE into the hands of individuals who are either not qualified teachers or who are no longer working in schools. For some it is a cheaper option that paying for a full-time PE teacher and for others it is a chance to free up staff for other, more important, jobs. Either way it positions PE as outside "normal" teaching and de-professionalises PE.
While testing and outsourcing may seem logical and may, indeed, provide some short-term gains (i.e., raising the perceived status of the school and allowing the budget to go further) it presents a number of longer-term challenges to the profession. Who, for example, is defining the present and the future of our subject? Is it the profession, the health profession, or large business? Are we comfortable with this? If the answer is yes, then neoliberalism is a good thing for PE. But if the answer is no, what can we do? How can we fight back against this agenda?
I have talked about the different demands on PE but the bottom line in this discussion is PE needs to be braver. We have talked at length about the danger of the multi-activity, sport technique-based curriculum and yet it prevails in many schools. We have talked about media portrayals of PE and have contested a "skills and drills" approach to teaching and yet that still prevails. If we value the long-term future of PE then we need to value the teaching and learning that is occurring in its name today, tomorrow and next year – least we lose sight of what we want PE to be.
What's next? As part of this series of blogs I propose the following as a way of considering the implications of this research on your teaching - Think, Act, Change (or TAC for short).
Think about findings of the paper – do they resonate with you? Use Twitter (@DrAshCasey) to ask a question, seek clarification, maybe challenge the findings.
Act on what you've read. What do you believe? Is it your responsibility to make changes or is this just something else that I've put on your plate? Is there action to take? If so, what might it be?
Change what you do in response to your thoughts and actions? Is this a personal undertaking? If you want to do something, or are looking for help, then please let the community know about it.
I wouldn't expect every paper to get beyond the T or even the A of TAC but if one paper resonates enough to get to C then hopefully all this is worthwhile. Good luck.
Reference
Macdonald, D. (2011).