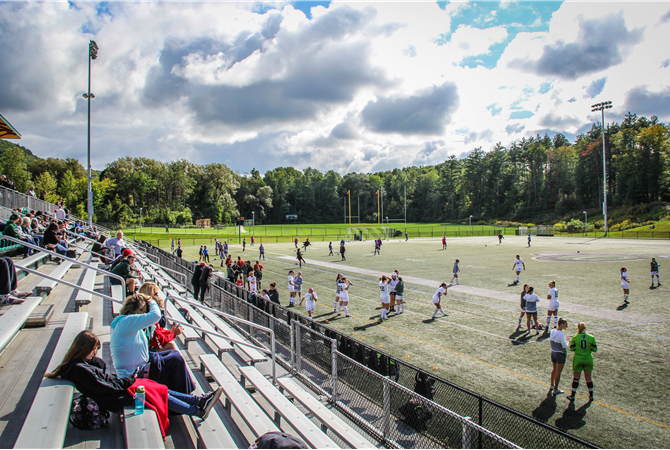 Photo by Ryan Stone on Unsplash
Using Autoethnography
The teacher-coach is a well-recognised entity in physical education; but it is not a standardised model. In some countries (like Canada where Jodi lives and works) coaching is seen as being more important than teaching and in others (take France as an example) coaching barely gets a look in in schools.
This is not, however, something that has occurred overnight. No one woke up one morning and said "right, physical education teachers must now coach school teams and we must win the city championships in our inaugural year!" These cultures have existed and become normalised over time. Today's teacher-coach – or multi activity promoters, or command style teachers – were successful in the same systems in which they now work. Many of those 'raised' in such a system don't look to challenge or buck the system that 'made' them who they are.
Jodi is and was no different. She was 'raised' in a system where physical education teachers are more often than not hired for their coaching ability rather than their teaching ability. This focus on coaching and sport often results, in her words, in the minimization of "the role of physical education pedagogy." It also, in reading about Jodi's autoethnographic journey, becomes obvious that such a focus reduces the teacher-coaches (and by default the school's) duty of care and focus to the chosen few, i.e. those 30 or so students who make up the majority of the different sports teams.
Like me, Jodi only found a lens to look at this dominate culture through post-graduate study.
[Aside] Which is another reason for this blog. Our only avenue to eye-opening, reflective experience can't be through post-graduate study. There must be avenues for change and research that exist outside of universities – but that's a blog for a later date. [close]
In engaging in her Masters of Education, and meeting Doug (the other author of the 'using autoethnography' chapter in our book), Jodi was given the tools to explore "her relationship with the culture of school sport…to see the pressures and expectations…[and to] negotiate the spaces of and between physical education teacher, coach, and athletic director."
Jodi (and to a lesser extend Doug) chose autoethnography because it allowed her to connect with others in her context: colleagues, administrators, students and parents who have their own pressures, expectations and experiences of the same culture. Furthermore, autoethnography allowed her to develop an appreciation of her context and experiences and, in doing so, analyse and interpret the culture of school sport that she both inherited and created. Finally, autoethnography gave her a voice to help others involved in similar cultures to read and think about her story and gain a deeper understanding of their own context and the web of relationships therein.
Jodi started by collecting a variety of data sources. These included the collection and refinement of a series of self-narratives and artefacts that represented key events where she truly questioned the rationale for the school sport culture.
She recalled the euphoria of getting the job as Health and Physical Education (HPE) Led teacher for a new school. She recalled her promise to lead staff in all thing HPE, athletics, sport, and intramurals.
She recalled how she would divide the one gym in a school of 812 students between juniors in the mornings, seniors after school and intramurals for all grades at lunchtime.
She recalled waiting for more than two hours after a game with her 10 month old son because one player's parents hadn't picked him up (and district policy banned her from driving him home).
She recalled making Assistant Principal (AP) and planning for a great year and being a leader and a role model.
She recalled her poor colleagues, who were neither excited nor pumped for the year she had planned.
She recalled ignoring the advice to move slow and let the teams and the school grow with time. She had wanted it all and now she was going to have to make the season work even if it meant exhausting her staff, herself, the kids and her son.
The artefacts Jodi found were Thank You cards and Christmas cards from 'average' students in her classes – not players or parents of players – telling her how great she was and how she had inspired them. They didn't mention the lack of time she gave them, or the time they missed her teaching because she was away with a school team, nor the lack of time she had to plan and prepare for their physical education lessons. They just wanted to thank her for what she did do – even if she suddenly felt she could do it much better.
When she got the job. When she made Led Teacher (and again when she made AP) she embraced the culture of school sport. These were not events that made her question herself and her choices. She question herself when she considered the impact (or lack of it) on the majority of students, on her colleagues and on her family.
Jodi loved coaching and the extra time she spent with the students really allowed all concerned to get to know each other. But at what cost? She wasn't close to the other students and could have been a better teacher if she had the time. There were more than 800 of them in the school and yet, by pushing for competitive athletic teams where intramurals would have sufficed, she was excluding them. Her athletic fever infect her family, her friends and her colleagues, and the majority of her students. She had, in her words, "become part of the problem".
Autoethnography allowed Jodi to move beyond sad stories and critical moments. It allowed her to explain to herself and others details about the social organisation of the life she lived and the expectations it held. It allowed her to see and understand her own values and beliefs rather than echoing those of the system, culture and context. It allowed her spend the time with Doug in conversation, collaboration and duoethnography to take responsibility for her decisions and her actions.
Because she was the only participant she didn't need university ethics but she did need to act ethically. She needed to take steps to act confidentially (pseudonyms, detail changes, care for colleagues) and with transparency.
Jodi didn't seek an outcome. Instead she sought a source for her own misgivings and concerns. She didn't rush to action but engaged in a study of herself in her culture. She used autoethnography – with Doug – to look with fresh eyes on her role as a teacher and a coach and find the things and the people she wanted to best serve. Finally, she started to do something about it. In this way, autoethnography was a beginning and not an end. It was/is a journey. One she is still travelling.
References
Casey, A., Fletcher, T., Schaefer, L. & Gleddie, D. (2017). Conducting Practitioner Research in Physical Education and Youth Sport: Reflecting on Practice. London: Routledge.