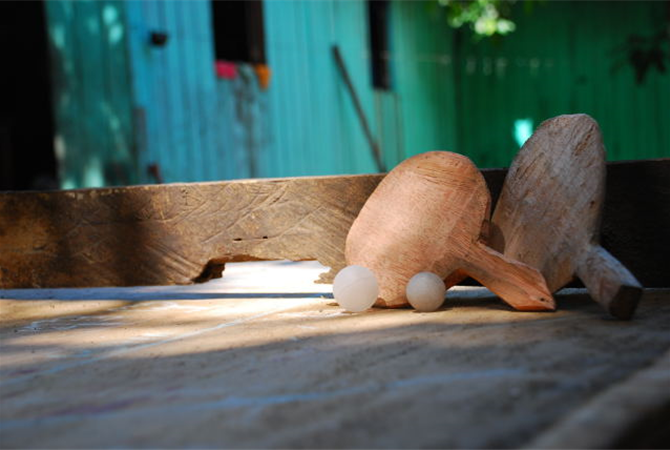 DSC_08180213 by Joelle Hernandez on Flickr
Participation that doesn't cost the Earth
How much plastic is in your store cupboard? How much of your equipment eventually goes to landfill? Looking back on my teaching I would suspect too much – truth be told anything is too much in today's climate – but even then it was too much. What would happen if you could get more wear out of the things you bought or if you could get the kids to value what they use? What would happen if every piece of equipment in a unit of work was self-made by the pupils and repairable or recyclable?
When I first read Fernández-Rio and Méndez-Giménez's chapter I was challenged to think beyond my ingrained expectation that kids should be moving in PE and not designing and building their own equipment. Yet, as I have acknowledged on many occasions since, this was the 'old me' who valued varsity sport and traditional games. Pupils needed to be good players and 'craft and design' was a whole other subject in the school. This was a 'me' who put academic learning – in the form of physical performance – above everything else. In fact I'd surprise myself if I ever consciously and deliberately strove form any other type of learning.
Reading the chapter again – with a lens of social, affective and cognitive learning added to my physical lens – I can see what Fernández-Rio and Méndez-Giménez see i.e. that a "sustainability-oriented curriculum" in which "the mantra is 'reduce, reuse and recycle" could offer so much to learners young and old(er). Literally building a curriculum that utilises "used and old materials to create equipment", that took advantage of "inexpensive and innovative", "improvised", and above all "homemade equipment" might seem a little unusual but that is what Fernández-Rio and Méndez-Giménez propose.
But what are homemade or self-made materials and how can they be used in physical education? Drawing on Benjamin Franklin's claim 'tell me and I forget, teach me and I remember, involve me and I learn' Fernández-Rio and Méndez-Giménez suggest that children can make paddles and bats, balls and markers, and not only play a game but construct a game – from scratch. They suggest that they can be active learners, social learners and creative learners when a teacher "involves his or her students in the construction of their own cardboard paddles from recycled materials".
While it is beyond the scope of this blog to talk about the process of creating self-made materials in detail please see the following for some idea.
https://www.youtube.com/watch?v=TcrihUz6ks4&feature=related
https://www.youtube.com/watch?v=2X7eV66ita0
https://www.youtube.com/watch?v=6K1A-tIh4k8
Fernández-Rio and Méndez-Giménez build their argument and approach on a well-articulated argument that a 'self-made materials' curriculum enhances the possibilities inherent in the Cooperative Learning model. Specifically they suggest that the processes of planning, building, evaluating and using homemade materials are strengthened when they are explicitly linked with the five 'essential' elements of Cooperative Learning: Individual Accountability, Positive Interdependence, Group Processing, Promotive Face-to-Face Interaction, and Small Group and Interpersonal Skills.
Having made a case for each of these elements they then support their argument for self-made materials under four pillars: Rising ecological awareness, meeting the needs of diverse learners, addressing issues of equipment scarcity, and learners as builders.
Rising ecological awareness: The first pillar of the 'homemade approach' is the positioning of the school as a community geared towards educating about the needs of the wider world. Fernández-Rio and Méndez-Giménez argue that "if children learning to make a connection between improvised equipment and their enjoyment of moment, they may become more sensitive, and responsible, to environmental concerns". It seems ironic that one of the often heard statements around birthdays that a child spent more time "playing with the packaging than the gift". In the case of 'homemade' materials that is exactly what we are striving for. By making a bat or a ball students become increasing aware of the physical environment and are able to development equipment that suits both their needs as learners and the classes needs.
Meeting the needs of diverse learners: Fernández-Rio and Méndez-Giménez argue that there is a continual search in education for ways in which to address the diverse needs of all learners. The literature tells us that teachers struggle to involve many students struggle to be involved due to a lack of adapted equipment. Keeping students in mind (and as builders this means themselves) 'self-made materials" can be "manufactured to fit the real needs of any student in physical education". Such a process can make a difference between success and enjoyment and fear and frustration and if students experience difficulties with traditional materials then they can be encouraged to build their own.
Addressing issues of equipment scarcity: Increasingly I read about schools applying for grant money to purchase equipment or the reduction in departmental budgets. These are the stories emerging from developed counties and in many other cases departments regard their "equipment as deficient". This can lead to activities being chosen because of a lack of materials rather than an educational developmental. Even when equipment is available Fernández-Rio and Méndez-Giménez suggest that "the lack of enough equipment prevent child from having time to practice and improve". Making their own equipment helps in maximise "involvement and participation" as well as enhance their development across the four learning domains.
Learners as builders: This final pillar focuses of "the individual who builds the materials". When "students with the help of their peers or their family" build their own equipment they make an investment in both the build and the equipment. They develop their social learning as well as their academic learning. Taking on roles such as information seeker, equipment manager, builder, presenter and reviewer means that students learn "to transmit information, listen carefully, make eye contact with the speaker, share ideas, give and receive feedback" etc.
While this has been a whistle-stop tour of self-made materials it hints at the potential of this approach in physical education. This is not a stand-alone lesson but a unit – like many pedagogical shifts – that requires an investment of time and energy. The work of Fernández-Rio and Méndez-Giménez suggests that it is an investment well worth making.
Fernández-Rio, J. & Méndez-Giménez, A. (2014). Innovative practice through the use of self-made materials: The Cooperative Learning model in Spain. In B. Dyson & A, Casey (2014). Cooperative Learning in Physical Education: A research-based approach. (pp. 42-56) London: Routledge.