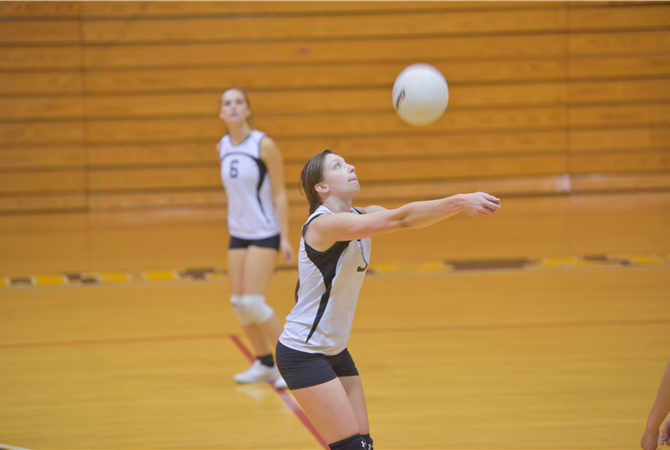 Photo by Truman Tigers on Flickr
Hopes and Olympic dreams
I'm sure at one point in many of our lives we have all dreamed of playing at the elite level. Whether that is in sport or as a professional singer or songwriter. However, truth be told most of us won't play for a 'Man United' or have songs in the top 10. Yet for those that do, as this blog shows, the elite don't do it on their own. To become elite and meet the dreams and aspirations of playing at the top level, performers need support from their family, coaches, teachers and schools. They need to be pushed and challenged because without a cohesive and coherent approach from all those involved in the performer's life, the performer may never reach their true potential.
Volume 2.20 (Blog 115):
van Vuuren-Cassar, G., Swain, J., Rossato, C.J.L., & Chatziefstathiou, D. (2014). Karen: Striving to reach Olympic performance levels. In K.M. Armour (ed.) Pedagogical cases in physical education and youth sport (pp. 263-275). London: Routledge.
Karen
At the age of 16 Karen can trace her love of volleyball back to her early childhood. While she started her active life as a dancer she started playing volleyball at the age of 9 and can't remember a time since then when she hasn't loved the game. Much of this love for volleyball has been built on her father's engagement in the game. She has watched him play and then officiate the game for almost as long as she can remember. All her friends are volleyball players at the local club – the one she joined at 9 and still plays for – and Karen has clearly made strong links between her social life and her club; in fact you could say the two are indivisible.
The London Olympics represented a 'sea change' in Karen's approach to volleyball and transformed her ambitions as a player. Prior to this she might have been best described as a sub-elite player but after watching the GB ladies beat a team ranked 50 places above them she wants to go to the Olympics herself. This change coincided with the arrival of a new teacher at her school who shared her interest in volleyball. The combination of a dream to play elite volleyball, a teacher with similar interests and a supportive family has meant that Karen has progressed quickly in her skills. She has played for the national U16s and even had trials for the U18s Women's regional and national teams.
Her national representation at U16 level means that she has received some funding support and her school is the best government-funded school in the area for volleyball. She has continued to progress but it seems that her dream of playing at the elite level has reached a stumbling block. The elite national U18 coaches think she needs to improve markedly to represent the U18s. Their feedback suggests that her decision-making is slow compared to others, a fact that Karen is trying to address at a personal level. Her parents have looked at sending her to the National Volleyball Academy at another college but the costs are considerable and they cannot afford it. They have therefore suggested that Karen works hard academically and develops her playing level while at university. There has been talk of studying abroad so she can play at a higher level but her coach is reluctant to support this because it would cost the team their best player.
The Pedagogical Case
Karen's case seems to focus more on out-of-school rather than the in-school factors but it is important that an holistic approach is taken with regards to her development. van Vuuren-Cassar and colleagues focus their exploration of Karen's case on skill-acquisition, the coach-athlete relationship, and family and school socialisation before offering a pedagogical overview.
It becomes clear, on reading about Karen, that she needs the chance to develop her decision-making skills. Consequently it is not just the amount of time that Karen practices for that is important but also the nature of that practice. Established thinking in the skill-acquisition literature would question if so called "game intelligence" can be developed and suggests that it may became a barrier to Karen's progression beyond the sub-elite level. van Vuuren-Cassar and colleagues argue that such traditional, "tried and tested" coaching practices might serve as a barrier to the development of new knowledge and suggest that new research is emerging that counters this point of view.
The authors hold that there "is growing empirical evidence available on the implementation of perceptual training programmes to enhance an athlete's game awareness or intelligence". By exploring the link between anticipation and probability-based decision making (what might be described, perhaps, as second-guessing your opponents) it becomes clear that elite athletes employ different and more active searching behaviour than sub-elite players. Where sub-elite players watch the initial path of the ball and the setter's shoulders, elite players look at the receiver and the spaces between attackers and blockers. Techniques that help Karen to adapt her visual search behaviour "to process information related to functional space in the court" could help in her development.
Another issue of concern is the disparity between Karen's aspirations and those of her club coach. In exploring this particular coach-athlete relationship van Vuuren-Cassar and colleagues suggests that while Karen has the "drive and passion to achieve" and a dream of playing for the GB team, her coach has aspirations for his team rather than his individual players. In pursuing her aim of playing at an international level Karen is prepared to move overseas but this hasn't been supported. Research suggests "athletic careers can be influenced by an athlete's relationship with a coach, peers and parents".
It is not an easy decision for Karen because she is torn between the social aspects of her life – after all all her friends play at the same club as her – and her dream of playing for GB. The relationship, therefore, that Karen has with her coach is important as it may or may not allow her to discuss these issues constructively. The coach-athlete relationship, in Karen's case, might benefit from examination through the "3+1 C Model of the Coach-Athlete Relationship". This model suggests that closeness, commitment, complementarity, and co-orientation are fundamental to the coach-athlete relationship. Without understanding of how each party feels about the situation it is difficult to move forwards and make important decisions, together, about Karen's career.
Two different types of group socialisation are playing a role in Karen's story. The first, at a primary level, revolves around Karen's family and her self-identification as a volleyball player. Her family culture has had an impact on which sport she became involved in and has proven to be a "key determinant in influencing [her] behaviours". The second group includes her school friends and environment. These have reinforced her "love for volleyball". Her PE teachers, the location of her club at her school, and her engagement in volleyball at multiple levels all combine to reinforce the socialising aspects of this second group.
When considered pedagogically the emphasis seems to fall squarely on Karen's club coach. She is "facing a series of potential barriers" and she needs help to try and overcome these. Her relationship needs to be fixed (or at least better understood) so that both of them can move forwards. The second need seems to focus on decision-making and her coach needs to understand ways in which her "game intelligence" can be enhanced. The final aspect is whether the educative aims of the school and the club are supportive of Karen's "elite development goals". Indeed van Vuuren-Cassar and colleagues ask "whether school-based and other sports clubs are able to support athletes who have the potential to achieve Olympic levels of performance?"
It could be argued that Karen's circumstances are limiting her chances of future success. Her parents' financial situation, her coach's unsupportive attitude, and the playing level of her club all combine to limit her chances of playing at an elite level. Karen has to seek alternatives, such as studying abroad, to try and achieve her dreams and yet this seems unfair. Perhaps this is the nature of elite sport or perhaps it goes a little way to explain why socio-economic background has such an effect on the medal's table.
What's next? As part of this blogs I propose the following as a way of considering the implications of this research on your teaching- Think, Act, Change (or TAC for short).
Think about findings of the paper – do they resonate with you? Use the comment box below to ask a question, seek clarification, may be challenge the findings.
Act on what you've read. What do you believe? Is it your responsibility to make changes or is this just something else that I've put on your plate? Is there action to take? If so, what might it be?
Change what you do in response to your thoughts and actions? Is this a personal undertaking? If you want to do something or are looking for help then please let the community know about it.
I wouldn't expect every paper to get beyond the T or even the A of TAC but if one paper resonates enough to get to C then hopefully all this is worthwhile. Good luck.
Acknowledgements: I would like to thank Vicky Goodyear for her work behind the scene as copy editor. Her help certainly forms a vital part of the production of this blog, and in getting out on time and in a semblance of coherence. However it is important to note that any mistakes that remain are mine.
Teach.com